1/26/09 Bangor Daily News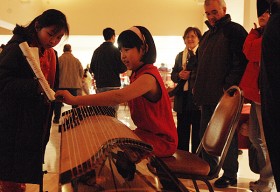 By Meg Haskell
BDN Staff

BANGOR, Maine — The student center at Husson University was a swirl of color, music and delectable aromas Saturday afternoon as the Bangor Chinese School hosted its fourth annual celebration of the Chinese New Year.

Goggle-eyed paper dragons festooned the stair railings, teenagers mingled over soda and chips, and little girls in bright-colored silk dresses dashed about on the slippery floor.

"Every year now, people expect this event," said Jing Zhang, president of the Bangor Chinese School. "There are so many students in our school, and more and more Chinese students living in the area. This is an opportunity for them to meet each other and make new friends."

Interest in the school's programs has increased as China's economic influence has grown, she said.

Co-hosted by Lee Academy, the party drew students and their families from Bangor and Orono as well as students from Lee Academy, Washington Academy in Machias and the University of Maine in Orono.

BANGOR DAILY NEWS PHOTO BY KEVIN BENNETT


According to Bruce Lindberg, headmaster of Lee Academy, there are more than 600 international students boarding at Maine's six town academies — private schools such as Lee and Washington academies that serve as the local high school as well as attracting day and boarding students from other areas.

"The great majority of the international students come from either China or Korea," Lindberg said.

Bob Potts, marketing director at Lee Academy, said Asian students come to private schools in rural Maine "to become more Americanized." Parents are attracted by the small-town setting of the schools as well as by their high academic standards, he said.

For several years now, Asian students from Lee Academy and other schools have been socializing with each other through the Bangor Chinese School, Potts said.

"The school is a nice way for the kids to stay connected to their culture," he said.

Seated on a sofa near the massive stone fireplace at one end of the room, Kathy Wall played a plaintive melody on an erhu — a slender, two-stringed instrument made of ebony and python skin. The 65-year-old Hampden resident said she has been studying Chinese language and culture at the Bangor Chinese School for two years.

Laura Santilli of Bangor came to the party with her 9-year-old Chinese-born daughter, Amelia, whom she adopted as an infant.

"There are a number of families formed through adoption here," Santilli said, surveying the crowded room. Amelia and other youngsters adopted from China were among the first students at the Bangor Chinese School when it opened in 2005, Santilli said. Since then, she and Amelia have traveled to China together.

"We're a Chinese American family now," she said, watching her daughter coloring at a table full of boisterous children. "It's not just her culture, it's mine, too."

Guests at the party enjoyed demonstrations of crafts, calligraphy, tai qi, dance, theater and acrobatics, a bountiful selection of regional Chinese dishes and an opportunity to learn more about the Bangor Chinese School and the mission it serves.

The school has served adult and school-age students from 58 communities in Maine so far. Using a language immersion model, students are steeped in Chinese language and culture. The school also offers a Chinese dragon summer camp, guided trips to China, classroom programs in area schools, special programs for teachers and tourists, and more.