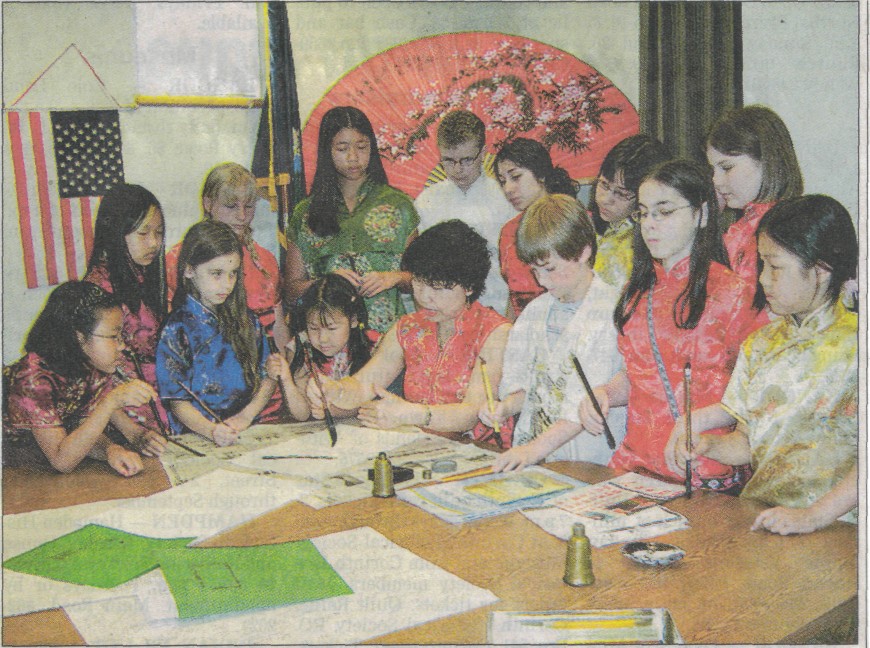 CHINESE LANGUAGE AND CULTURE
Last week at Chinese Dragon Camp on the Husson College campus, Jing Zhang (front, center), president of the Bangor Chinese School, demonstrated to campers the art of Chinese calligraphy. Getting ready to try their hand at writing a Chinese character are (front row, from left) Ashlee Sarnie, Kaci Kus, Skyler Farnsworth, Melissa Tian, Zhang, Jadon Cormier, Elizabeth Lewis and Mei Tian; (back row) Abbie Symonds, Kylee Kus, Will Cormier, Catherine Chavaree, Dana Hsiao and Brooke Preston. The campers also practiced math, in Chinese, using an abacus, and went outside to practice tai chi led by Suzhong Tian, who assisted Zhang during camp. For information on the Bangor Chinese School, call 990-0710. (Ardeana Hamlin/The Weekly)
_____________________________________________________________________________________________________________________________________
Chinese culture focus of summer camp
BY DAWN GAGNON
OF THE NEWS STAFF
Source:
Bangor Daily News
Saturday/Sunday, 08/23-24/2008
Edition: Section: B, Page: 2
_____________________________________________________________________________________________________________________________________
BANGOR — With the 2008 Summer Olympics under way, the world's eyes are on China. Dozens of children from the Bangor area, however, had the opportunity to experience the Chinese language and culture first-hand, thanks to this year's edition of Chinese Dragon Camp sponsored by the Bangor Chinese School. During the program's closing ceremony Friday, 10 of the more than 60 youngsters who participated in the camp over the summer got to show off what they learned about China, its people, its geography and history its cuisine and its customs, as well as its music and art forms.

"The Chinese language right now is so important," said instructor Jing Zhang, who founded the Bangor Chinese School in 2005 with her husband, Suzhong Tian.

Not only is Chinese the language of nearly a quarter of the world's population, China is an emerging economic superpower. The children who took part in the program this summer, however, likely weren't thinking about that as they made Chinese dumplings, sang Chinese songs, went on field trips to a farm and Chinese restaurant, did tai chi, ate with chopsticks, counted in Chinese and learned the Chinese words for everyday things such as fruits and vegetables, animals, colors and body parts.

"This is an immersion model," Zhang said just before the closing ceremony got under way in the children's reading room at the Bangor Public Library. The theme for this year's summer camp was "Love is our common language," Zhang said. Zhang said the school has received a great deal of support from area communities, parents of students and businesses, including Wal-Mart, which provided a $1,000 contribution. The donation from Wal-Mart, she said, was used to provide a summer camp scholarship for a youngster living in foster care and to buy a projector for use in lessons.



For information about Bangor Chinese School, contact Jing Zhang at 990-0710.

Bangor Daily News, Friday, June 26, 2008 B3
__________________________________________________________________________________________________________________________________________


Students spend summer session studying China


BY TIM DEVANEY
OF THE NEWS STAFF
The Chinese Dragon Camp sponsored by the Bangor Chinese School is wrapping up its first week of classes at Husson College. This summer the camp will hold seven one-week sessions for more than 60 children. It's designed to immerse Maine children in the Chinese language and culture. "It's everything Chinese for the whole week," instructor Jing Zhang said. She founded the Bangor Chinese School with her husband, Suzhong Tian. While many schools struggle to interest children in reading and writing, this camp is finding it easy.

"Now, when they are so young, it's much easier for them to pick the language up," Zhang said. "Our mission is to build a bridge to connect the U.S.A. with China." Diane Bradbury, whose children attend the camp, appreciates the staff's approach.
"They have a special way they communicate," she said. "Kids really take to them. They're so friendly and warm; they really embrace the kids." Bradbury brought her two daughters, Kaci and Kylee Kus, and their friend Ashlee Sarnie from Massachusetts to the camp. They have a summer home in the area. "This is the third year both girls have been going to it," Bradbury said. "It's a wonderful opportunity for them to get introduced to Chinese culture and language. It's a fantastic program and they want to come back every summer." Many parents are noticing the effects, including Kelly Preston.

"It's giving kids confidence to not be discouraged from new material in other schoolwork," she said. "Kids today are hungry for a bigger worldview, hungry for interaction in education with other cultures." With the Dragon Camp, many children now are feeding their hunger with a better understanding of the Chinese language. "The writing is easy, but the pronunciations are hard," said camper Brooke Preston. "If you're talking to someone who's spoken Chinese their whole lives you can embarrass yourself really easy by pronouncing it wrong." The children also are being exposed to Chinese history, geography and mathematics.
But campers are learning more than academic subjects. Throughout the week they are surrounded by Chinese activities such as dancing, music and painting. "The music is not like what we listen to regularly, but it's really cool," camper Abbie Symonds said. "It's nice to see how the music in their country compares to ours." To top off the immersion, campers are given Chinese clothes and food.

Zhang said she's glad to help her students and believes it is becoming essential to learn Chinese in the business world. "China right now is developing so fast and there is more demand for learning the Chinese language and culture," she said. "More and more people want to visit China. More busi-ness people try to do business and they come to my school to learn the language and culture." The camp will hold six more sessions this summer.

For information about the Chinese Dragon Camp or the Bangor Chinese School, contact Jing Zhang at 990-0710.


---
---